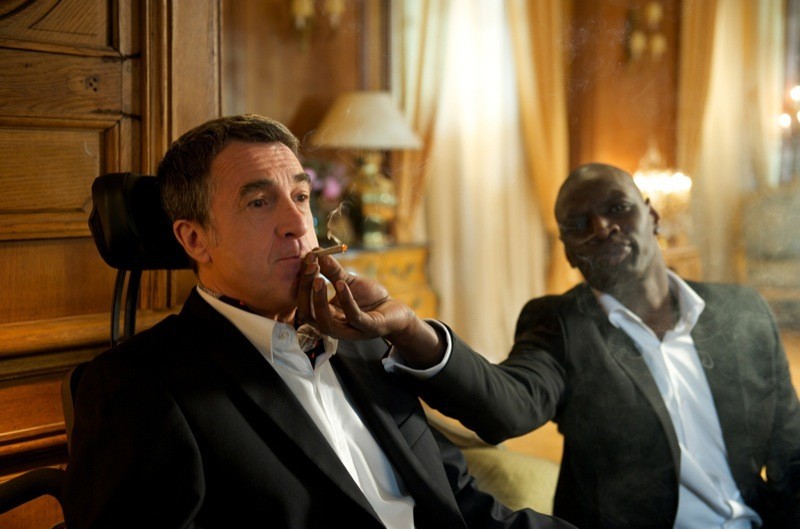 TWC's latest attempt to strike a permanent alliance with the awards polish industry. This review previously appeared in
ICON
and is reprinted with permission.
*************
Harvey and Bob Weinstein reenergized independent film in the late 1980s and 1990s at their old haunt, Miramax, bringing edgy, entertaining goodies like
sex, lies, and videotape
and
Pulp Fiction
to the masses. If the Miramax logo appeared before a movie, you were in for something funky.
Then, in 1998, Miramax released the terrific costume comedy-drama Shakespeare in Love. It made a ton of money, won seven Oscars, and completely changed the movie moguls' game plan. Though there are exceptions, what the brothers now distribute at the Weinstein Company could be described as prestigious schmaltz. It's geared toward Oscar votes and family outings. Sometimes the approach works (The King's Speech). Sometimes it doesn't (My Week with Marilyn, Bully). When the TWC logo appears, I usually know what to expect. It's like eating at a chain restaurant.
Remember, McDonald's is overseas, too. TWC has imported the viva life comedy-drama The Intouchables, a commercial and critical smash in France, stateside. It's life affirming and endearing in such a predictable, unoriginal way that those qualities are practically manufactured. I can't decide if writer-directors Olivier Nakache and Eric Toledano are lazy or savvy.
Senegal native Driss (Omar Sy) returns to the rough side of Paris after six months in prison. To stay on the good side of bureaucracy, he goes on job interviews. One takes him to the nice side of town, where wealthy, white quadriplegic Philippe (
Francois Cluzet) needs a new caretaker
.
Fed up waiting with a hoard of well-dressed, somber-faced applicants, Driss barges into the interview room. When asked for references, Driss responds with Kool and the Gang and Earth Wind & Fire. He sexually harasses Philippe's comely assistant (Audrey Fleurot) and shows no regard for his potential employer's condition. "Don't get up," Driss says as he leaves the office, assured that his government papers will be signed the next morning.
Driss returns to find he's gotten the job. The young man is skeptical—Philippe is tough to please, the work is challenging—but he needs housing, and the accommodations are palatial. And that sexy assistant is around. Driss is a terrible caretaker, but he responds to Philippe with emotions beyond pity or reverence, barriers others erect because of Philippe's financial and physical conditions. Driss comments that a piece of pricey modern art looks like a nosebleed; he denies Philippe's request for sweets by saying, "No handy, no candy." He can tell Philippe that his spoiled daughter treats the staff poorly and that six months of poetry to his longtime, flirtatious pen pal is enough. When Driss looks out for Philippe's best interests, it's not just a line in a cover letter.
Inspired by a true story, The Intouchables flourishes when Driss brings his real world bluntness to Philippe's well-funded, isolated world. There's a beautiful scene where Driss takes Philippe out after-hours. The two swap stories in a café, and you see the men letting their guards down, testing the waters of a friendship. Nakache and Toledano prefer to explore more placid bodies of water. As the movie progresses, Sy devours more screen time. Driss is clearly the actor's star-making turn, and with a good reason: Even with a language barrier, Sy is a rapid-fire charmer. But the mugging obscures how Philippe affects Driss, portraying the friendship as working in one direction. Good friendships don't work that way.
With that issue unresolved, the movie happily becomes another fish out of water tale, like Trading Places or The Fresh Prince of Bel-Air. A rich man's life gets turned upside down by streetwise smart aleck who cuts through all the pomp and circumstance. This classical music is from a coffee commercial! German opera is so lame! Now let's put on "Boogie Wonderland" and get this party moving. These scenes are funny when Eddie Murphy is infiltrating Philadelphia's upper crust, but in The Intouchables they are out of place, even insulting.
The filmmakers don't know how to deal with Driss or Philippe beyond labels. Driss' family problems are handled with the urgency of a Caribbean honeymoon. Philippe doesn't do much but complain: about his dead wife, his boring family, Driss' unfortunate replacement. He has that miserable teenage daughter he barely acknowledges. Nakache and Toledano flood the screen with activities—paragliding, a sing-a-long to "September," a trim that turns Philippe's beard into a Hitler moustache—that we almost believe the film portrays an unusual, lovely friendship. It's not about these men, but using them to provide the illusion of substance. The Intouchables is really a soft-focus infomercial about living life to the fullest. No wonder the Weinstein brothers got their hands on it. [R]