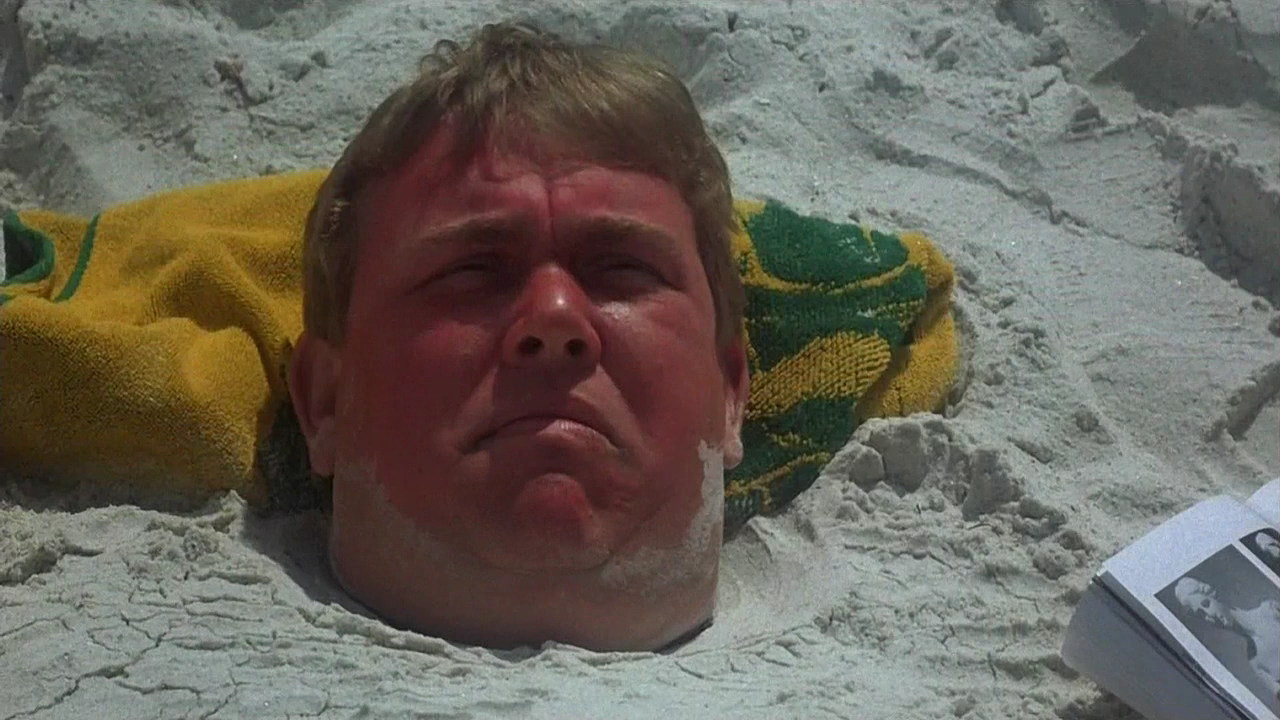 I had every intention of posting this on July 1st or July 2nd, but I spent the July 4th week on a family vacation. And, well, everything came undone.
I'm in favor of vacations, generally speaking. They clear the mind and fill the belly and give you memories that last at least for a month or two. Preparing for them is a whole other matter. The week before I leave always features a crisis or urgent deadline or some other disaster fresh from hell's oven. This time around the AC unit in my rental property went kaput on Friday, meaning a day away from the office--my laptop forgotten at home--waiting for a technician to never arrive, followed by a flurry of phone calls the next day.
Getting back is no picnic either. I feel like I've just gotten my head above water, which is why I can present this batch of reviews for your loving eyes before I move on to the next set of deadlines.
These reviews previously appeared in ICON and are reprinted with permission.
The Hunt

(Dir: Thomas Vinterberg). Starring: Mads Mikkelsen, Thomas Bo Larsen, Annika Wedderkopp, Lasse Fogelstrøm,
Susse Wold
, Anne Louise Hassing,
Lars Ranthe
, Alexandra Rapaport. It's only a matter of time before the brooding good looks and somber sexuality of Mikkelsen (currently starring on TV's Hannibal) become the permanent property of big studios with small ideas, so cherish his riveting performance in this unsettling, gripping character study from Denmark. He plays Lucas, a divorced, middle-aged kindergarten teacher on the verge of professional and personal peace when a snubbed student (Wedderkopp) falsely accuses him of sexual assault. No one is willing to hear Lucas' side of the story as concerned adults protect the child without hearing her pleas to correct herself. The tight-knit community shuns Lucas, including his best friend (Larsen), who is also the child's father. Vinterberg bitingly satiric drama examines how the values that govern suburban harmony can turn exclusionary and toxic. It is a psychological face slap. We leave not knowing if we ever get the chance to define ourselves or if we are doomed to play the roles others assign to us. [R] ****
Blackfish

(Dir: Gabriela Cowperthwaite). In 2010, veteran SeaWorld trainer Dawn Brancheau was killed while performing with Tilikum, a usually happy 12,000-pound orca that was a longtime staple of the amusement park's shows. Sadly, this was not the first time Tilikum had lashed out. Housed in conditions befitting an oversized goldfish and subjected to abuse from other orcas, "Tillie" had killed another trainer during his stint at a Canadian park in the early 1990s, a fact that SeaWorld's powers-that-be conveniently overlooked at purchase time. Cowperthwaite uncovers that and loads more in this stirring documentary that boasts the organization and narrative allure of a great magazine feature. The director stays out of the way and lets her subjects (countless former SeaWorld employees) and expertly abbreviated video footage (we see Brancheau in her final moments alive) do the talking. Blackfish is a devastating examination of what happens when man thinks it can corral nature to fit the parameters of a business. [NR] ****
The Bling Ring
(Dir: Sofia Coppola). Starring: Katie Chang, Israel Broussard, Emma Watson, Claire Julien, Taissa Farmiga, Leslie Mann. Modern-day youth gone wild tale chronicles the real-life exploits of a group of wealthy suburban LA teens that robbed the houses of celebrities (including Paris Hilton and Lindsay Lohan) before the authorities got wise. The attitudes on both sides boggle the mind. Some people have no problem leaving a mansion full of jewelry, cash, and clothes unlocked; who a person is wearing maters more than the person sporting the clothes. Coppola doesn't delve enough into those mind-sets or skewer this new era of conspicuous consumption. We need five more scenes like Mann's vacuous mom home-schooling her kids based on the wish-upon-a-star idiocy of The Secret and two more characters like the beautiful, self-flagellating mope played by Broussard. Coppola focuses mostly on the brazenness of the kids' partying thug life, which grows old pretty quick. Watson is terrific as one of the burglars, an aspiring actress whose bimbo monotone speaks volumes about her character—or lack of it. Based on Nancy Jo Sales' article for Vanity Fair, which became a book. [R] **1/2
Before Midnight
(Dir: Richard Linklater). Starring: Ethan Hawke, Julie Delpy. How many times have the sequels in a series been released because there was a story to tell? That's the beauty of the nearly 20-year odyssey of Jesse (Hawke) and Celine (Delpy), who went from meeting on a train in Before Sunrise (1995) to reuniting in Before Sunset (2004) to becoming an established, honest-to-goodness couple. They're wrapping up their summer in a Greek paradise, but chemistry is amiss. Jesse has put his son from a previous marriage on a U.S.-bound plane and feels like he's falling short as a dad. It's not helping that the kid is sharing secrets with Celine, who is worried that Jesse wants to move stateside. This prelude of concerns brings up years' worth of issues, which reaches a crescendo during a romantic night away from the kids. Linklater, who wrote the dialogue-driven script with Delpy and Hawke, offers a touching snapshot of a couple trying to merge the past and the future into a pleasant now, eloquently capturing the romance and realism of married life without making a precious fuss. Before Midnight is an enchanting ode to words, acting, and understatement—exactly like the previous two movies. [R] ****